Rainee is the artistic director of The Resistance Theater, an independent, imaginative group of theater artists in Chicago. Speaking raw, honest, and brave truths, the stories told fly beyond the confines of the typical theater setting.
Currently, we're ramping up production for our inaugural play in 2020. It's a pitch-black comedy that starts with a guy tied up and a woman with a gun.
Rainee is the founding artistic director of Chimera Theater Ensemble. Created alongside other members from The Academy at Black Box Acting 2015, she was at the helm for the first year of this not-for-profit company. She produced a ten-minute festival, "Hang Onto Your Shorts" and the Chicago premiere of "Sister Cities." Both at The Den Theatre. See what they're up to now!
The Promise of Spring is a fun and fearless musical take on life, love and coming out on top. With Musical Director, Mark Elliott, the show features the music of William Finn, Andre Previn, Carlos Jobim, Harold Arlen, Stephen Sondheim, Gershwin, and Kander & Ebb.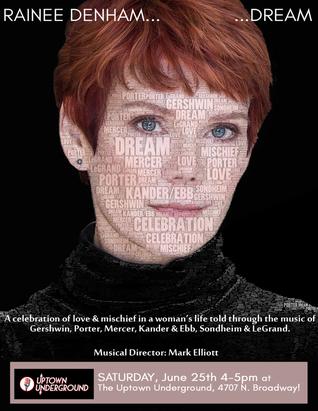 Dream is inspired by all the songs Rainee is drawn to as a woman. With themes of rebellion, mischief, and love on your own terms, the song selection includes: "I Want To Be Bad," "Little Things," "I Can't Be New," "Let's Misbehave," "Everybody Says Don't," "I'm Still Here"," "Dream," and more!
Rainee has produced several music recordings, including her two albums "Dreams Come True" and "Let's Get Lost," and her latest single, "Let's Get Lost."